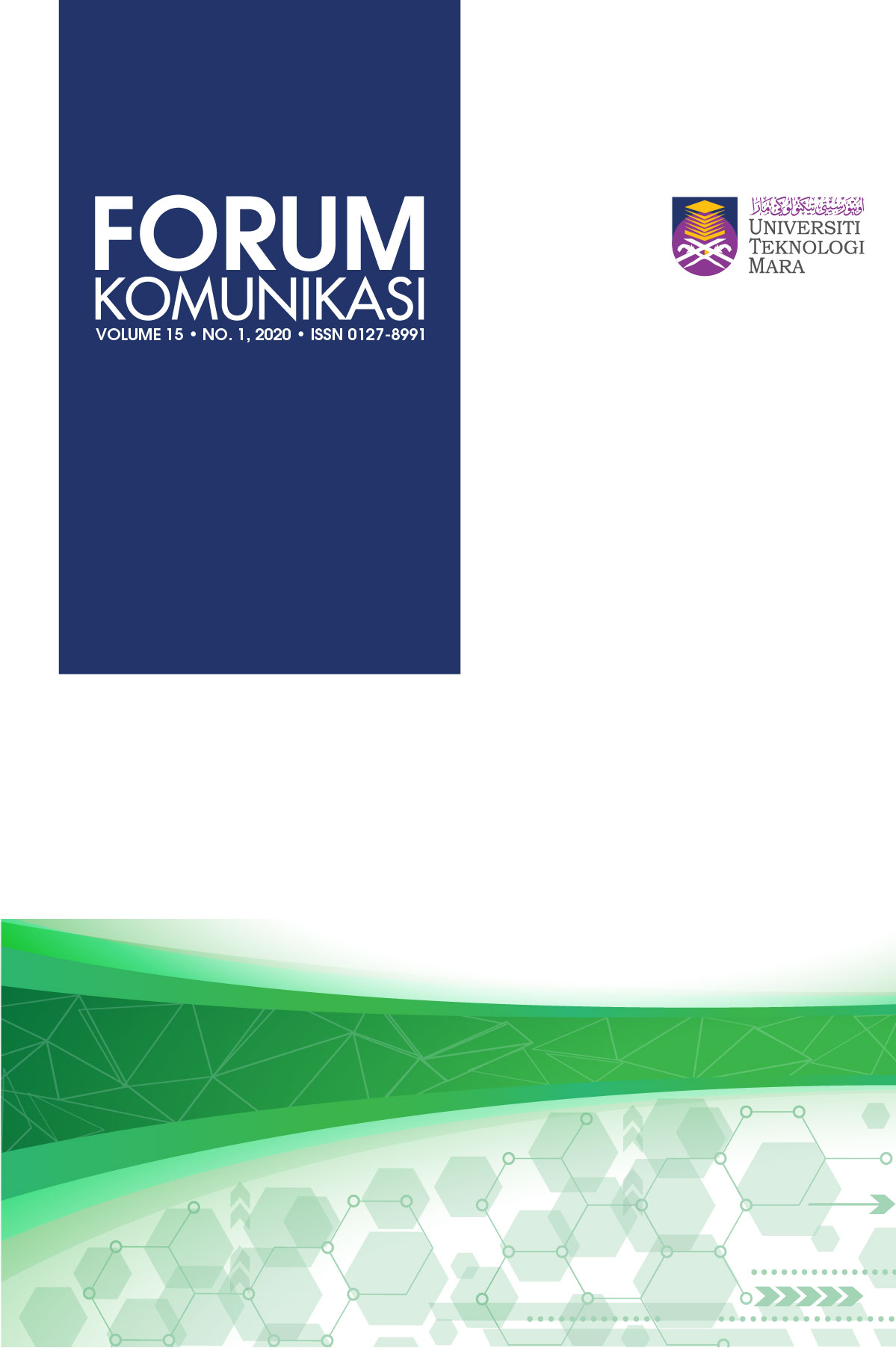 FORUM KOMUNIKASI published biannually by the Faculty of Communication and Media Studies (FCMS), Universiti Teknologi MARA, provides a forum for transdisciplinary and multidisciplinary approaches and research in the media and communication fields. It aims to provide diverse worldviews, perspectives and analyses in the field of media and communication as an intellectual inquiry.
The editorial board cordially invites you to contribute articles to this journal which concerned with the anthropological, cultural, economic, historical, philosophical, political, sociological and theological approaches in the study of communication, mass media institutions, mass media contents, media systems and criticisms of culture, society and new media technology as they relate to communication.
The manuscripts may be based on original research, fieldwork, analyses of existing literature, or on emergent issues pertaining to any area of communication and media studies. The journal will only consider manuscripts not previously published or currently under consideration by another journal. By submitting a manuscript, the authors agree that the copyright of the article is transferred to the publisher when it is accepted for publication in Forum Komunikasi.
Current Issue 
Editor's Memo
Volume 18 (1), 2023 of Forum Komunikasi has just been issued with enlightening list of journal articles related to the vibrant field of communication and media.
Starting with this issue, ten articles will appear in each issue of April and October. For your information, five articles will be published in the current issue while the whole contents of this April issue will be fully uploaded to our portal by July 15, 2023.
We are also very pleased that this journal has been successfully registered in MyJurnal, the leading journal management system in Malaysia. We believe this success starts with everyone's support, especially the contributors and reviewers of our journal articles over the years. Hopefully it will pave the way for more meaningful achievement in the future through better access to the journal's content by strategic scholar fraternity and helping us to increase the visibility and citations of the journal.
See More



Forum Komunikasi Vol 18 (1), 2023
Perintah Kawalan Pergerakan semasa Pandemik COVID-19 dan Kesannya terhadap Wartawan Malaysia
Author : Kirubasani A/p Nadarajan
              Rani Ann Balaraman
Abstract | Abstrak | Full Paper PDF (331KB)
Brunei and Malaysia Relationship in Pelita Brunei,1957-1970
Author : Mohd Azhar Zainal
              Mohd Firdaus Abdullah
              Yusry Sulaiman
Abstract | Abstrak | Full Paper PDF (632KB)
Kajian Wacana Lisan Bahasa Melayu dalam Pengucapan Awam: Satu Tinjauan
Author : Zarien Nurlieyana Aminuddin
              Norazlina Mohd Kiram
Abstract | Abstrak | Full Paper PDF (298KB)
Aftermath of NSFW in Twitter towards Adolescents
Author :  Dewi Seribayu Nordin Selat
               Ahlam Abdul Aziz
               Wardatul Hayat Adnan
Abstract | Abstrak | Full Paper PDF (383KB)
Pandemic Governance: A Comparative Study on COVID-19 Crisis Responses between the United States and South Korea
Author :  Manimegalai Ambikapathy
               Dewi Seribayu Nordin Selat
Abstract | Abstrak | Full Paper PDF (312KB)
Seize the Present Day: Tiktok Entertainment Content and Youth Satisfaction
Author :  Siti Mardhiyyah Mohd Fauzi
               Wardatul Hayat Adnan
               Mohd. Fadly Khamis
              Ireena Nasiha Ibnu
              Nurul Hijja Mazlan
Abstract | Abstrak | Full Paper PDF (393KB)
Exploring Social Media Addiction among Malaysian University Students
Author :  Nurul Fatin Najihah Zulkifli
               Muhammad Zaiamri Zainal Abidin
Abstract | Abstrak | Full Paper PDF (461KB)
Pemaparan Identiti Remaja Lelaki dalam Genre Filem Remaja Indonesia
Author :  Firdaus El Hadi
               Md Azalanshah Md Syed
               Hamedi Mohd Adnan
              Mohd Nazri Ibrahim
Abstract | Abstrak | Full Paper PDF (343KB)
Exploring Metaverse in Future from Experts Perspective
Author :  Bai Kai Ge
               Nur Haniz Mohd Noor
Abstract | Abstrak | Full Paper PDF (220KB)
Beyond A Click: Gratifications Seeking from Facebook Interaction
Author : Zaridah Abdullah
              Mohd Nazri Ibrahim
              Shahnil Asmar Saaid
              Faizah Din
              Muhammad Fadhli Abdul Rahman
              Jalilah Jaafar Sidek
Abstract | Abstrak | Full Paper PDF (764KB)