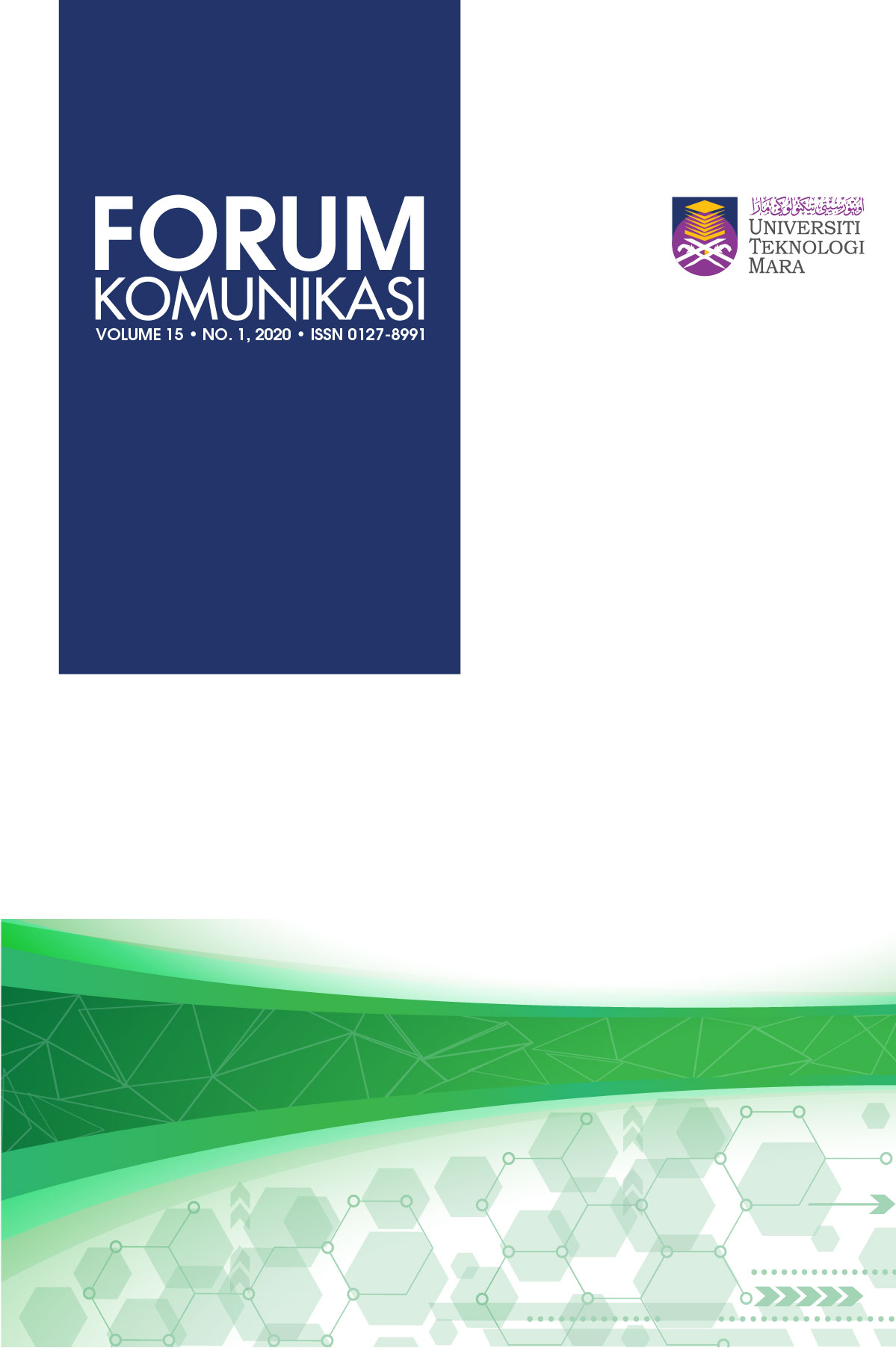 FORUM KOMUNIKASI published biannually by the Faculty of Communication and Media Studies (FCMS), Universiti Teknologi MARA, provides a forum for transdisciplinary and multidisciplinary approaches and research in the media and communication fields. It aims to provide diverse worldviews, perspectives and analyses in the field of media and communication as an intellectual inquiry.
The editorial board cordially invites you to contribute articles to this journal which concerned with the anthropological, cultural, economic, historical, philosophical, political, sociological and theological approaches in the study of communication, mass media institutions, mass media contents, media systems and criticisms of culture, society and new media technology as they relate to communication.
The manuscripts may be based on original research, fieldwork, analyses of existing literature, or on emergent issues pertaining to any area of communication and media studies. The journal will only consider manuscripts not previously published or currently under consideration by another journal. By submitting a manuscript, the authors agree that the copyright of the article is transferred to the publisher when it is accepted for publication in Forum Komunikasi.
Current Issue 
Editor's Memo

The latest edition of Forum Komunikasi Vol 16 (2), 2021 has just been released with thought provoking list of journal articles that entails various scholarly discussion on communication, media and digital landscape. This edition is especially interesting as we embarked on strategic collaboration with the 2nd International Conference on Media and Social Science (iCOMS2021) which was held from 24-26 August 2021.
Through this partnership, Forum Komunikasi has been able to enhance its visibility and collectively received quality manuscripts from iCOMS2021. The collection of this edition of articles chiefly cover the all-encompassing issue perplexed us all pertaining to how communication and media position itself in the face of communication technology that permeates into our every day's life.  More interestingly, the discussion in this latest edition also significantly deal with the calculated usage of digital technology in the perspective of digital immigrants and digital natives.
The line of authors contributing to this edition also speaks volume to the distinctive quality that it brings into the scholarly discussions and extended work derived from it. Additionally, this edition also provides relevant and constructive discussions in line with current issues affecting communication and media in the face of digital landscape. Therefore, it is hoped that this endeavour will continue to foster continuous dialogue among various stakeholders through which the ubiquitous compilation of ideas would bring forth a wide array of discourse to intellectually stimulate academicians, students, and industry practitioners in improving the theoretical concepts and practices alike for the betterment of mankind.
To conclude, we in the editorial team earnestly hope readers would review recent areas of study that may be closely related with the papers presented in this issue.  At this juncture, we wish to thank contributors in this issue for their undivided support.  Not to forget, we also owe our gratitude to the reviewers and members of the Editorial Board for their assistance and teamwork in ensuring the continued publication of this issue. To date, we are  in the process of reviewing manuscripts for forthcoming issues.  Lastly, we welcome your viewpoints and comments for the enhancement of the journal contents.  Please connect with us via forumkomunikasi@salam.uitm.edu.my

FORUM KOMUNIKASI VOL 16 (2), 2021


Educating the Concept of Local Food and Culinary of a Destination through Social Media Websites and Mobile Applications
Author : Mohd Hairi Jalis
               Jefry Elias
               Mohd Nazri Ibrahim
Abstract | Abstrak | Full Paper PDF (397KB)
A Systematic Review on Online Gaming Addiction and Student's Behaviour in Gaming: The Case of playerunknown's Battlegrounds (PUBG)
Author : Wardatul Hayat Adnan
              Ateefa Binti Azairi
Abstract | Abstrak | Full Paper PDF (508KB)
Advertisement of Beauty Products Using Social Media Influencers (smis) and Customers' Trust in Shah Alam
Author : 'Izzati 'Aliah Zaidi
              Wardatul Hayat Adnan
Abstract | Abstrak | Full Paper PDF (659KB)
The Impact of Social Media Use Towards Negative Emotion and Suicidal Tendency Among Students:A Systematic Review
Author :  Peng Yifan
               Wardatul Hayat Adnan
Abstract | Abstrak | Full Paper PDF (519KB)
Malaysians' Acceptance towards Korean Beauty Standards Embedded In Korean Popular Culture
Author :  Farah Alia Binti Zaizakrani
Abstract | Abstrak | Full Paper PDF (359KB)
Age and Education Level as Indicators in Acquiring ICT Skills Among Rural Entrepreneurs in Samarahan, Sarawak
Author :  Mohd Ariff Zabidi Manja
               Lau Sie Hoe
               Adeline Engkamat
              Vloreen Nity Mathew
               Zalina Ibrahim
              Ahmad Lutfi Anis
Abstract | Abstrak | Full Paper PDF (335KB)
The Role of Indihome's Public Relations Department In Responding to Customers (Generation Z) Satisfaction Complaints
Author :  Ngurah Rangga Wiwesa
               Ahmad Avila Thoriq
               Ananda Diska Alifah
               Aulia Qintara
               Nur Azizah Heriyani Putri
               Radiktio Arso
Abstract | Abstrak | Full Paper PDF (787KB)